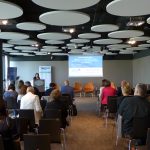 The Med Biodiversity community brings together researchers, managers, public authorities and environmental institutions in 11 thematic projects under the umbrella of 1 horizonal initiative for the Mediterranean called PANACeA. All these projects are supported by the Interreg Med Programme and are co-financed by the European Regional Development Fund.
The objective of this community is to foster an ecosystem based approach to nature conservation.
PANACeA, as an overarching coordinating initiative, aims to provide
Scientific syntheses with clear messages and recommendations for use in management and to inform and influence current policy in the form of factsheets, technical and policy papers, and media materials;
Spatial tools and databases to generate new knowledge and better integrate past and current datasets from related projects; and
Enhanced communication and learning through networking and showcasing the outputs of the whole community of projects in key events and fora.
In this map you can see where the Med Biodiversity Protection project partners are based.
More about us here:
Where is the Med Biodiversity Community working?
Which topics are addressed?